Open all year
Good access
Adult only (18+)
Super-sized pitches (min 10mtrs x 10mtrs)
Most with uninterrupted panoramic views
Hard-standing pitches (winter only)
Quiet site in rural location
Dog play area
Drinking water points
Chemical waste disposal points
Electrical and non-electrical grass pitches
Electric hook up (see advice below)
Free heated luxury showers & toilets
Please note :- we are on private drainage and therefore do not offer a separate washing up area or washing machines
Ice pack freezing
Book swap
Free Wi-Fi is available throughout the site
Excellent television & satellite reception
Barbecues 300mm off the ground allowed, instant or low bbq`s see us on arrival for grass protection, no fire pits or log burning
Great beaches nearby
Footpath to South-West Coastal path (40min)
Good pub, butcher, village shop, post office and cafe less than 1 mile
Local bus service (click on bus link at bottom of home page for timetables)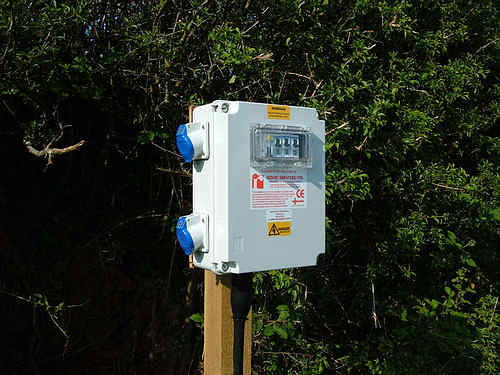 Basic Guidance on Electric Hook-up for Tents
One of the most frequently asked questions is 'Can I use mains electricity in my tent?' Then 'What do I need to buy to do it!' It can be a little confusing to the new camper when faced with different options, and apparent differences in price for the equipment needed.
This article is intended for campers who have little or no electrical knowledge and want some basic guidance on Electrical HookUps (EHUs)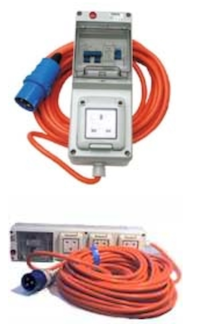 A typical EHU for use in tents consists of:
A single/triple 13 amp socket(s), a distribution box with a transparent window housing a 10amp double pole MCB and 25amp RCD. This should be in an integral housing and physically protected to a minimum of IP44.
This in turn is connected to cable with a BS EN 60309-2 plug (Commando Type) at the opposite end.
These are sold complete at most reputable camping outlets. They are available with a single socket outlet as shown above or three socket outlets as shown below.
You cannot sensibly expect to pay less than £50.00 for the single unit, more for the triple unit, so if anything is selling for less than this, treat it with caution.
Integral RCD (Residual Current Device) and MCB (Miniature Circuit Breaker).
Weatherproof Unit to a minimum of IP44.
Purchase a unit which was designed for camping use and do not attempt to cut corners with other equipment that seems similar but which in fact may not be.
It is not advisable to use normal household appliances, purchase appliances designed for camping use.
Do not attempt to 'make your own' unless you are suitably qualified to do so and fully understand the technical implications.


This article is meant as a general guide only. You must take professional advice when using or considering installing electricity in your tent, or caravan.